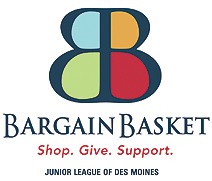 TheBargain Basket thrift store has served the Des Moines community since 1974. The net proceeds from sales have given back more than $1,000,000 to organizations working to improve lives of those in need in our community. In January 2017, the Bargain Basket moved from the East Village to the Avenues District of Grand and Ingersoll.
We are located at 3811 Ingersoll Ave. in Des Moines.
The Bargain Basket specializes in selling high-end and high quality clothing, accessories, and shoes. We welcome your donations of high quality women's apparel and accessories! You're welcome to drop donations by our office location or to have those items picked up by a Junior League member, please contact us to arrange and allow 2-3 business days for arrangements: info@jldesmoines.org. Donations may also be dropped off at Aimee in the Village (426 E. Locust St., DSM); please specify to their staff you are dropping off items for Bargain Basket.
We are open every second Saturday of the month from 10 a.m. -4 p.m.
**Our members are developing a plan to transition to online sales via Instagram due to COVID-19 safety concerns. We hope to welcome you back to our physical location soon. You may arrange for donations to be dropped off via appointment by contacting: info@jldesmoines.org**
Our 2020 sale dates are: Jan. 11, Feb. 8, March 14, April 11, May 9, June 13, July 11, Aug. 8, Sept. 12, Oct. 10, Nov. 14, and Dec. 12.
Follow us on Facebook and Instagram to see sneak peeks of each month's deals! Thank you for all your support! We look forward to continuing to serve you and the Des Moines community!